Blog

Friday, December 13, 2013

Landscaping Tip
Do you entertain outside often?

A couple of key things things to remember.....

-At least one area needs to be have privacy. This would be provided by a fence, tall shrubs, trees, pergola, trellis, etc.
-Make sure you provide enough space on the patio for outdoor funiture. You visitors will need to be able to sit around comfortably.
-Have a focal point such as a outdoor fireplace or firepit on your patio. This is the area that people will gather around and converse with each other.
-When entertaining at night make sure to have outdoor lighting. This will provide a nice accent to your outdoor living area.

We try to incorporate all of these items on our projects here in Knoxville. If you have these items in place outdoor entertaining will be greatly enhanced.


---

Tuesday, December 3, 2013



Concrete Walkway Alternatives

Many people will choose concrete when it to walkways because of lower cost. However, many times concrete will crack and become unsightly. Below are a few of the different types of walkway alternatives to concrete at little or no additional cost.

Flagstone- irregular thin natural quarried stone. The joints are filled with decorative peagravels, polymeric sand, or mortar.




Pavers- manufactured man made concrete stone. They come in a variety of colors, textures, and thicknesses. There is a wide array of patterns to lay them in. Joints are filled with polymeric sand.


Cut Stone- natural quarried stone that is normally cut into squares or rectangles for a more uniformed look. Typically the joints are filled with grass or decorative peagravels.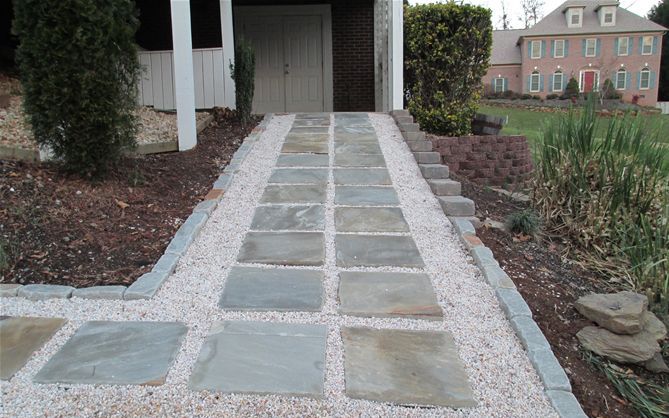 All of these types of walkways will flex and give because of the joints, so cracking is not an issue. Next time you are thinking about installing a new walkway or replacing an existing one keep these types of walkways in mind.
---

Wednesday, November 13, 2013

Dry Creek Beds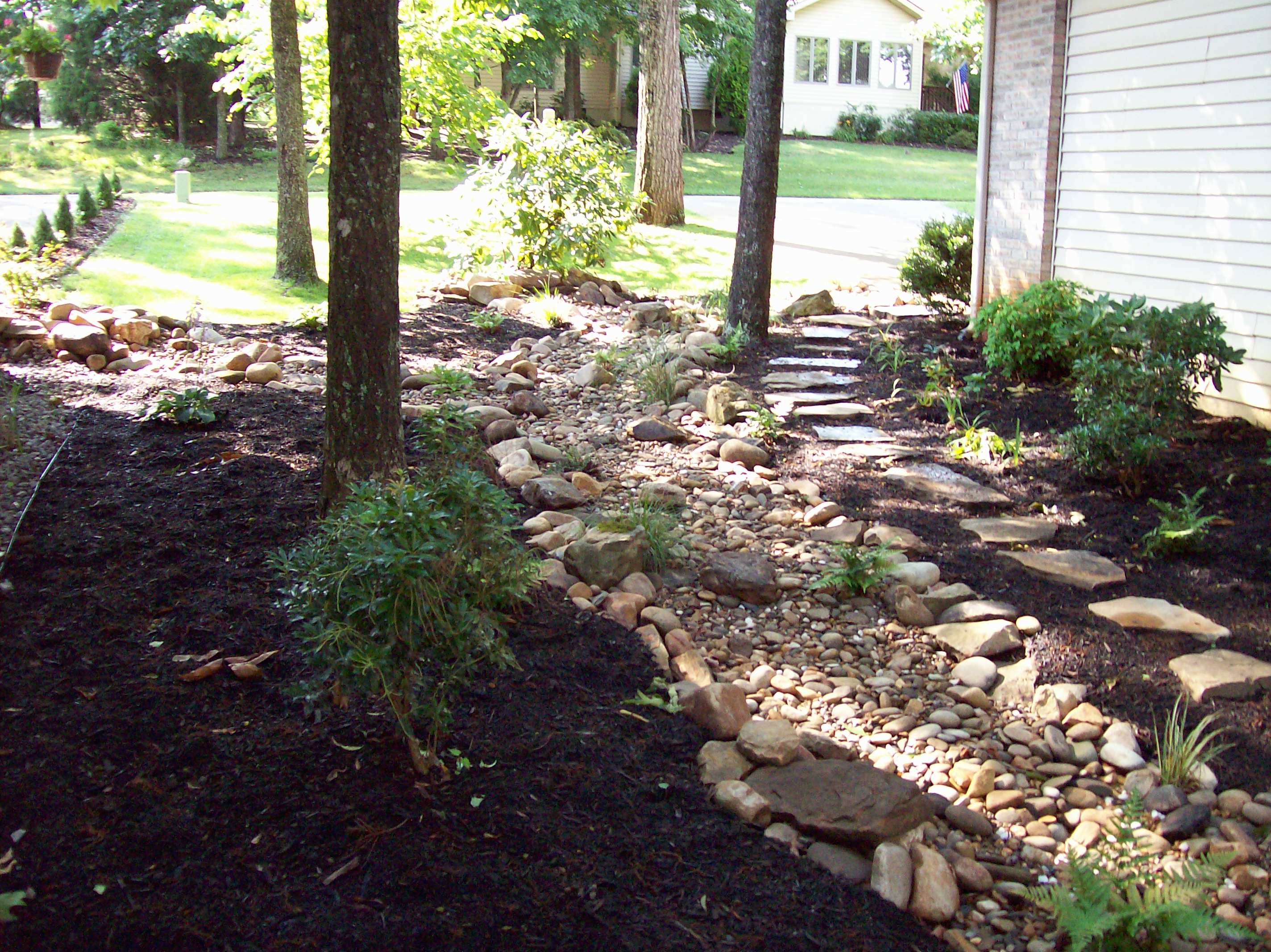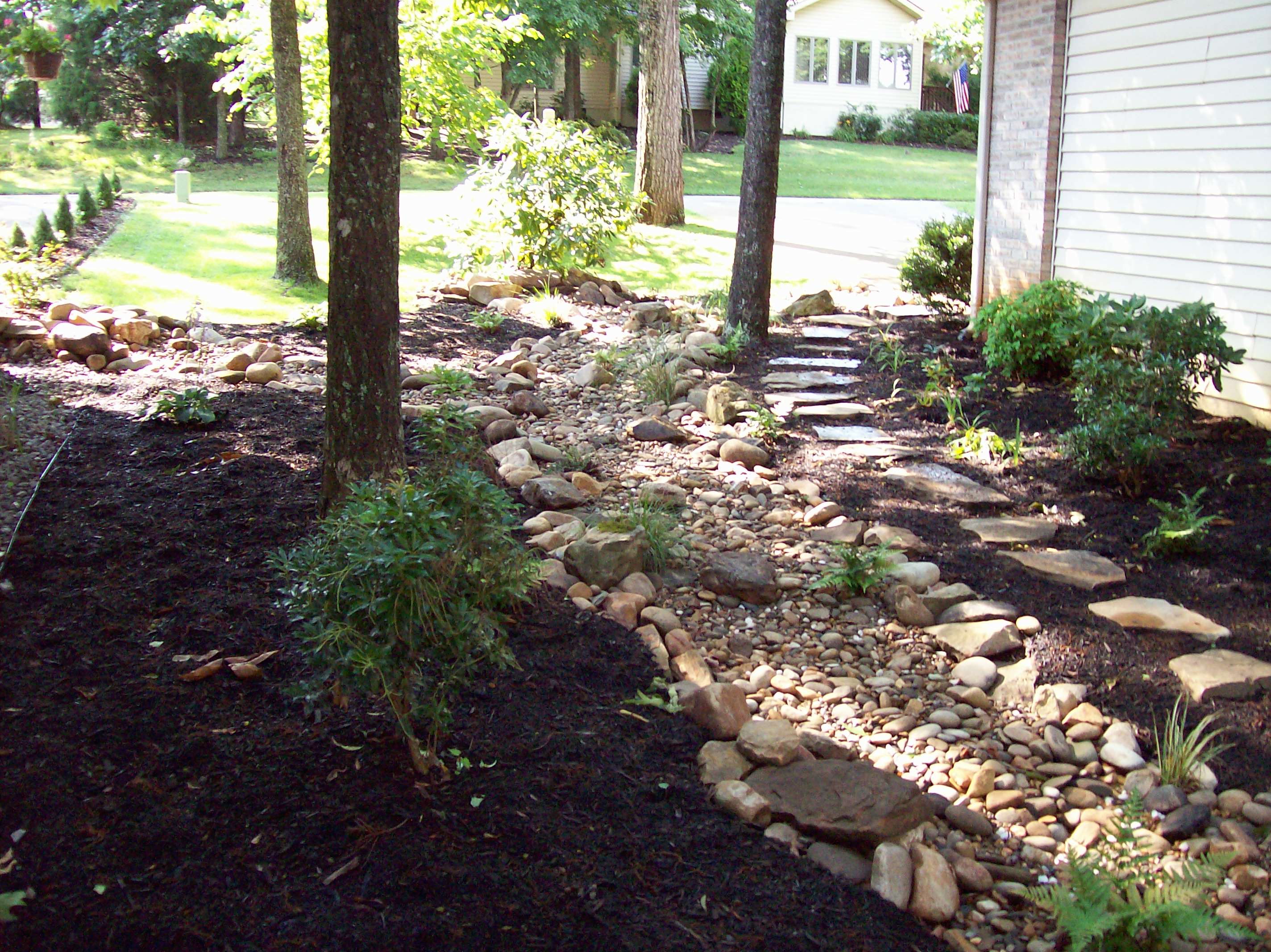 If built properly a dry creek bed simulates a natural waterway and serves as a drainage system during heavy rains. The key to building one picking the natural low point of the property were runoff runs and digging out a 3'-4' wide swell meandering throughout gives a move natural look. After lining with landscape fabric for weed control, put down a base of pea gravels. On top of that, small 1"-3" stone and adding in some 3"-5" stone randomly. Varying the size of stones adds to the natural appearance. Add in occasional boulders and water loving plants along the side as the final step. The goal is to make the creek bed look like it was always there and not man made. Dry creek beds are aesthetically pleasing and give water a place to go without erosion taking place. We have installed many of these for our clients here in Knoxville, TN. If you have a boggy, wet area on your property contact us for a free estimate.


---
Wednesday, November 6, 2013

Boulders and Rocks in Landscaping
Landscaping with rocks is a great way to enhance your property and can be incorporated into water features, pool areas, patios/ walkways, walls, and landscape beds.
Water Features- If you already have an existing pond, a connecting waterfall or stream would be a great option and using boulders and rocks gives it that natural look like it was always there.
Pool Areas- You can utilize rocks around pool to create small waterfalls and lagoons. A landscape design would be necessary to create the appropriate layout.
Patios & Walkway- Surrounding patios and walkways with large boulders gives it a cozy feel and can provide a sense or privacy.

Walls- Today many people use manufactured stone for retaining walls, but a boulder retaining wall has a more rugged, natural look. If the rest of your property has natural stone for its hardscapes then a manufactured wall would look out of place.
Landscape Beds- Randomly mixing boulders and rocks into your landscape beds breaks up an otherwise plain landscape bed with plants and flowers. Again it provides a very natural look. Contact us if you would like a landscape design that incorporates and utilizes the natural look of boulders and rocks.
---
Tuesday, October 29, 2013
2013 Perennial Plant of the Year
Variegated Solomon's seal was this years winner. It has arching, olive green, 3-4 inch leaves. In the spring cream colored bell shaped flowers bloom. This plant only grows to be about 18"-24" in height. It prefers partial shade and moist soil. Planting zones 4-8 support this plant. Knoxville, TN is in planting zone 7 so it is a perfect fit. If you need a consult on what specific plants would work best in your outdoors space visit our Contact page.
---
Wednesday, October 23, 2013

Fall is time for planting



Fall is the one of the best times of the year to plant. The weather is cooler and many plants will soon become dormant. Dormant plants do not suffer the trauma of transplanting as much as those transplanted in the warm months. Fall is a perfect time to plant most varieties of trees. The only trees I would wait until spring to plant are beech, birch, magnolia, and dogwoods. Perennials plants shouldn't be planted much past the first of October, for fear they will not have enough time to root before the frost heaves them. And it is never too late to plant spring flowering bulbs as long as you stored them in a cool spot.



---
Wednesday, March 6, 2013

This weekend will be at the Expo Center working the Knoxville Home Design & Remodeling Show . The show days are Friday, Saturday, and Sunday. Come by and visit us!
---
Sunday, February 17, 2013
We had a great time at the Dogwood Arts House and Garden Show talking to people about their upcoming landscaping and hardscaping projects. At our booth we installed a custom built pergola made out of Douglas-Fir wood sitting on Belgard retaining walls. What a great show ran by excellent people. Next year we will be in one of the Grand Garden areas. If we didn't get a chance to talk with you feel free to contact us anytime.

---
Wednesday, February 6, 2013
Come by and check out our booth (# 4026) next week at the Dogwood Arts House & Garden Show held at the Knoxville Convention Center. The dates are Feb. 15th-17th. Hope to see you there!

---
Monday, February 4, 2013
Firepits
Don't want to invest in a complete outdoor kitchen or outdoor fireplace just yet? Go with an outdoor firepit as a cheaper alternative. They can still serve the same purpose of a gathering area to have dinner around or to roast marshmallows with family and friends. Many of our clients here in Knoxville will go with this option until they are fully ready to comment to the bigger hardscapes. What if you already have a patio? Not a problem. We can install them over the existing surface. You can choose from manufactured retaining wall block, mortared mountain stone, or flagstone. Besides the price, some of the other benifits to firepits are low maintenance, takes up less room, and can be added or removed easily. Firepits can turn a paver patio that you never use to a central area of entertainment. Let us customize a firepit for you today.
---
Thursday, January 17, 2013
Have you ever talked to a landscape design company only to get confused with some of the landscaping terms. Here are a few common terms and there definitions.

Hardiness: this is how well a perennial plant will be able to survive cold temperatures
Annual plant: plants that have a lifecycle in one year, an example would be phlox
Biennial plant: plants that have a lifecycle of two years, an example would be lettuce
Perennial plant: a plant that has a lifespan of over two years, an example would be a daylily
Deciduous: plants that have leaves that fall off with the seasons
Coniferous: plants that have cones and needles instead of leaves
Soil structure: this is the composition of an area of soil; it affects the type of plants that can survive there
Tender plants: plants that are not able to survive in very cold temperatures
Variegated: flowers or leaves that are a darker color surrounded by a lighter color, or it can be the other way around
---



Monday, January 7, 2013


Hardscaping vs. Softscaping


There are two different types of landscaping: hardscaping and softscaping.

Hardscaping is solid materials that stay the same for many years. Here are examples of hardscapes.

Paver Patios
Walkways
Steps

Driveways
Retaining walls
Outdoor kitchens and fireplaces

Water Features
The materials used in hardscaping are: flagstone, brick and other types of manufactured stone, mountain stone, slate, and concrete

Softscaping doesn't have the long term quality that hardscaping does. Softscapes change often as people want to reshape their landscaping from year to year. Some example of softscaping are:

Plants
Shrubs and hedges
Trees
Turf
Vines

Flowers
Hardscapes and softscapes should complement each other and create a nice flow on the property. Harscaping will be the main feature, but softscaping completes it. We work hard to come up with CAD and/or hand drawn designs for our clients that incorporate both hardscaping and softscaping. Visit our Contact Us page today to start your landscape design process.

---

Monday, December 24, 2012

Wishing everyone around Knoxville a Merry Christmas. We are looking forward to working on more great landscaping projects in 2013.


---
Wednesday, November 28, 2012
Permeable pavers
Help the environment and look good doing it. This alternative to traditional pavers is becoming increasingly popular in the hardscaping industry and many are being installed in and around Knoxville, TN. The definition of permeable is something that allows liquids to pass through it. The idea behind permeable pavers is preventing rain runoff which can carry toxins such as oil, gas, or anything else that has spilled. These chemicals are concentrated into nearby watersheds. Consider permeable options on new installs or if your old surface is cracked and needs replacing. We like Belgard's eco-friendly collection. If you are interested in permeable pavers or any of our other eco-friendly landscape options contact Plan-It Green Landscapes for a free consult.
---
Sunday, November 11, 2012
2012 Perennial Plant of the Year
The Perennial Plant of the Year is Brunnera macrophylla "Jack Frost". It was named by the Perennial Plant Association. It has heart-shaped silver leaves, with a mint green color. Blue Forget-me-not flowers Bloom in mid to late spring. It doesn't typically do well in extremely dry climates. 'Jack Frost' can live in more direct sun than most of the other variegated types of Brunnera, but afternoon shade is preferable. It grows in planting zones 3-8 so this plant fits in great here in Knoxville, TN (which is zone 7).

---
Monday, September 17, 2012
A how-to on installing a Paver Patio
This is the process we use on each paver patio we install for our great clients here in Knoxville, TN.
Step 1 Preparation
Spray out the areas where the patio will be installed. This requires accurate measurements and elevation changes need to be addressed. Pick out your paver type: color, texture, size, pattern. Call your local utility company (811) to have any utilities marked to make sure you don't hit anything during excavation.
Step 2 Excavating
A base of 4" of crush and run gravel needs to be installed along with 1" of pugmill (densely ground aggregate). Most pavers are 2 3/8" thick. So you will need to dig about 7" down. Dig 4" beyond the area you plan to lay pavers to allow for your boarder material. We will cover this later.
Step 3 Installation of Base Material
Compact the surface of the ground after it has been excavated. Install 4" of crush and run gravel, compacting every 2". You need to use a plate tamper for this. (they can be rented). Install 1" of pugmill or sand and compact again. You will need to screed the material out for a smooth finish surface. You can achieve this with a 2x4 piece of wood. Make sure you have a fall of 1" for every 10' so the water will run off of the patio to the area you desire.
Step 4 Installation of Pavers
Careful not to disrupt the screened sand place the pavers on the surface in the pattern you want. Make sure your lines are all perfectly parallel and perpendicular to each other. You can use a small string drawn tight if you need to. If your patio requires cuts at the edges you must do them at this point. Measure and mark pavers with a pencil and cut them using a diamond blade saw.
Step 5 Installed Edging
You can use plastic edging, metal edging, or concrete. Place the edging along the sides of the patio and cut accordingly for any curves. Drive nail spikes into performed holes in edging and make sure edging is at least a half inch below surface of pavers. Most of the time plastic is all that is necessary because the edge will not be seen after complete installation.
Step 6 Compaction
Sweep or blow off any debris from surface of patio. Spread polymeric sand on the patio and sweep it into the joints. Leave some excess sand on the surface. Run the tamper over the surface once. The excess sand will cushion the surface as the tamper vibrates. Re-sweep one more time and compact again. Using a mechanical blower remove any excess sand from the surface of the patio. Wet the patio 3 or 4 separate times waiting 15 minutes between each application. This will harden the polymeric sand for a tight bond.

Let us take care of this process for you. Contact Plan-It Green Landscapes today to schedule a free on-site consultation.
---
Tuesday, September 11, 2012
Rainwater Harvesting Systems
Is the grass is always greener on the other side? No, but it is greener when it is watered. What could be more "green" and eco-friendly for the environment than reusing rainwater. Rainwater Harvesting Systems are great on many different levels and can help you take care of your property while saving you money. Most commonly rain water harvesting systems can aid in watering plants and grass. Many of today's irrigation systems can incorporate a cistern to collect and redistribute rainwater. Rainwater harvesting systems can also compliment your water feature. They can replenish water levels in ponds, waterfalls, and streams. These systems can make your current or future water feature self-sufficient and you will no longer have to worry about maintaining water levels. You will notice a difference in your monthly water bill as well. If you are not ready to set up a full system you can still have a rain quality rainbarrel installed under a rainspout to collect rain rain water. Some will hold up to seventy five gallons. This will not make your water feature self-sufficient, but it will supply you with additional water to use on plants or to manually maintain water feature levels. Wether you go with a full rainwater harvesting system or a rain barrel you are taking a step in the right direction for the environment and your wallet. Many countries already depend on these systems as their many source of water. Stay ahead of the curve and let Plan-It Green Landscapes show you how these systems will work for you. Visit our Contact Us page to request an free on-site consultation or call us (865) 963-2735.
---
Tuesday, September 4, 2012

Water Features
With pleasant sounds and visually appealing aesthetics water features can set an atmosphere. Typical landscaping water features include waterfalls, cascades, fountains, ponds, and streams. At Plan-It Green Landscapes we install all of these for our customers in and around the Knoxville, TN area and we love the artistic expression each job brings.
Here is a brief description of each. Waterfalls are a nearly vertical drop in elevation in a creek bed, while cascades are a steep drop with water falling down and around boulders. Fountains are when water falls down or shoots into the air from a piece of architecture. Ponds are a small body of standing water. Streams are bodies of water with current that are contained within a stream bed and banks. We also install dry creek beds for many of our clients who wish to address an erosion problem area, but do not wish to maintain a water feature. Dry creek beds will funnel water to specific areas during rains.
We like to make our streams and dry creek beds flow through the landscape with many bends and drops. Using specific grasses and plants along with a variety of different size boulders, medium size rock, and pea gravel in our water features makes them appear like they were already there and not just added into the landscape.
Water gardens are becoming increasingly popular in landscaping as well. This describes the entire area in and around water. You can incorporate any of the water features mentioned above into a water garden, but most commonly it is a pond with a stream or cascade flowing into it that can house ornamental fish surrounded by a variety of plant life. We love to have multiple water features coming together to make a peaceful space for our clients to relax. Let Plan-It Green Landscapes make this process easy and fun for you. If you have landscaping ideas in mind we would love to discuss them with you. Visit our Contact Us page or call us at (865) 963-2735.
Plan-It Green Landscapes | Knoxville, TN